2022 FVR Memorial
Men's Golf Invitational 
This annual event is designed to bring players together for three days of competitive golf, great food, and friendship in a beautiful setting.  Contested in 2022 In honor of Thomas Graham, each year those we honor in association with the FVR Memorial had a tremendous passion for and commitment to the game of golf.  They appreciated and modeled the honor, integrity, and most importantly, the friendships that are the basic principles of our sport.
Thomas Graham
Our 2022 Honoree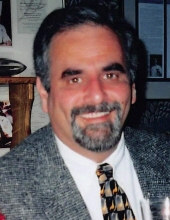 Thomas Graham was a member of FVCC since 1999 and like most Danville kids he was a caddy at the club in the 60's. Tom's greatest caddy experience was carrying the clubs of his granddaughter, Leah until his health gave out. Tom was liked by all at FVCC and was a regular participant in the weekly poker games in the card room. He really enjoyed his "senior" card crew and especially loved playing in the senior golf events at Frosty. Tom also spent many hot summer afternoons in the pool with Leah. Each year Tom and Andrew played against Joe and Jeremy Graham in the "Graham Open" which ended a 20 year tradition with a 10-10 tie. As Danville's Borough Manager, Tom was the town ambassador and if he wasn't at Frosty you could find him on the streets of town greeting the citizens and solving problems.
He will be remembered for his constant good humor, infectious smile, devotion to golf and love of Danville and all it represents. Tom was good friends with both Gene Hamilton and Mike Boone and loved golfing with them. The greens in heaven are rocking with that trio shooting par every round.
Following Tom's example, bring your kids and grandkids out to Frosty Valley to play the greatest game ever, make life-long friends and enjoy the beauty of our terrific golf course.
Honor him by golfing, sharing in a Tito's toast for him and fill the day with memories and laughter for the past as well as making new ones, as he would have wanted!
Venue
Play will be contested over the challenging David Gordon layout at The Golf Club at Frosty Valley Resort.  The Open Division will compete from both Purple/Orange Tees (6400 – 6675 yards), the Senior Division will compete from the Black Tees (5900 – 6100 yards), the Super Senior Division (65+ years of age) will compete from the White Tees (5300 – 5500 yards).  NOTE:  Both players on a team must compete from the same set of tees, utilizing the tees appropriate for the younger member of the team, if applicable.
2022 Rules and Guidelines
Entry Fee
$400 per two-man team
Final deadline for all entries June 1, 2022 by 5pm
All entries must be submitted via the electronic entry form by clicking the "Register" link below.
No entry will be accepted without accompanying full entry fee via credit card

No entry fee will be refunded unless a request for refund is received by June 17, 2022, and reason for t

he request is deemed appropriate by the Committee. A $100 fee will be retained by FVR if there is a full field and no replacement team can be found
Entry Fee Includes
Two practice rounds are permitted prior to the event after entry has been received and approved by FVR. Practice rounds must be scheduled in advance by calling the FVR Pro Shop (570-275-4700) and players must take a cart at a cost of $20 per player per round
Three rounds of play (including cart)
Two meals provided each day
Prizes
Full use of Frosty Valley Resort facilities including range balls, club storage, locker rooms, and pool
Players may establish an FVR Charge Account for the weekend at registration on the tournament's first day
Eligibility
Entries are limited to the first 96 teams
Entrants limited to male amateur competitors 16 years of age or older
Players on a team must play from the same tee
Format
Play will be three rounds *unless altered by the FVR Memorial Committee based on unforeseen circumstances
There will be three divisions: Open, Senior (55-64 years of age), and Super Seniors (65+ years of age)
Four-ball play (better ball of partners) will be contested in all divisions *following play in the opening round, the top eight (8) teams in the Open Division (ties broken using USGA regression tie-breaker system) will be paired for match play Saturday. Match play first-round winners will play two matches Saturday, with the championship and third-place matches held Sunday.  The four first-round match play losers on Saturday will be paired in a separate flight of medal play Sunday.  The remainder of the field in all divisions will play a second day of four-ball qualifying Saturday to be flighted within their divisions for the final day.  The Committee reserves the right to adjust the number of teams in each flight to best minimize stroke differential
Pair of two-man teams in each starting time each day
Starting times on all three days will commence from both the #1 and #10 tees as assigned by the Committee