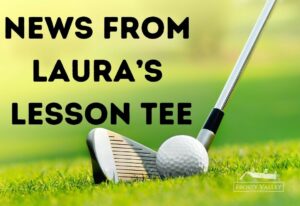 I am looking forward to a great 2022 golf season.  With a new, young enthusiastic golf professional, Steve Kuchka, and of course, our awesome superintendent, Tom, who has brought Frosty Valley golf course to a new level, we should all be anxious to get out and play.   I know I can't wait!
Once again, I will be available to offer golf lessons to students of all ages and skill levels. I look forward to having another full lesson schedule this summer.  The new short game area will provide an opportunity to work with you and help you hone your short game skills, perfecting scoring shots around the greens.   As a member and Level 1 instructor of the Plane Truth Institute, I am always trying to improve on my teaching skills to help my students learn to hit the next ball better.
Again, I look forward to offering women's classes. I would like to see more women on the golf course, enjoying time with other women or with their families.  New this season, I plan to offer some free clinics and tips for members.  One example would be, "tips and sips "on the range with your teaching professional.   Grab a cocktail and come to the range to learn a specific skill.  Then enjoy a nice dinner at The Iron Fork.
I am extremely thankful for the support and encouragement you have shown me over the last 5 years as I worked to grow the US Kids junior program. In 2017, when the program began, there were 8-10 children involved.  At the end of 2021, there were over 125 juniors ages 3-12 in the program.   It has been a dream come true for me, to teach children this great game and learn to love it.  Like my good buddy Jim Hardy says, we "make it fun enough, long enough, till they can't get enough".   I was humbled and happy to have been awarded the 2021 US Kids Top 50 Master Coach.  Only 16 coaches received this award.  It's the highest award one can receive from US Kids.
This summer I will be offering two Parent/Child camps.   Two of my great friends and colleagues will be helping me with the instruction at the camps.  Jim Hardy who has been key to the growth and development of the US Kids program and Marlene Davis who is well known as one the top teachers in the Buffalo NY area. The camp experience will help allow both adults and children to learn to have fun and create lasting memories.
The US Kids junior camps and player pathways are on the schedule.  To help alleviate some of the congestion on the range when the kids have summer camp, Tom and I are working to develop the area parallel to hole #3. This will provide the juniors with another area to practice their skills.
If I can help you out in any way, whether it be fixing your slice, fine tuning your short game, or learning how to score better on the golf course, please schedule a lesson with me and we can figure out a plan for your golf game to be the best in 2022.
For more information on classes, camps,  and junior schedule, please visit my website.  Lauratylergolf.com
See you on the lesson tee,
Laura